Humidity tests and influence on UMX5, as well as on Paper Filter, performed at IKT Laboratory on September, 23rd. 2008
This Document describes the tests performed and the Results obtained.
Test Setup
The Mettler Toledo UMX5 Micro Balance in the ECC-Chamber, connected with a serial to USB cable to the Toshiba Laptop. The UMX testing program installed on said Laptop.
The Environmental Control Monitor (Software to monitor the ECC-Chamber) installed on the Control PC located in the Technical Components Box.
A standard MTL Paper Filter for the measurement of Diesel Particular Matter.
Actions performed
| | | |
| --- | --- | --- |
| Time | Action | Observation / Comments |
| | no Action until 9:50h // T=22°C, RH=45%, Chiller T=7°C | Performance as expected, everything OK |
| 9.50 h | Calibration UMX5 | |
| 9.55 h | Tara Function on UMX5, 1st. Time | |
| 10.50 h | Tara Function on UMX5, 2nd. Time | |
| 10.52 h | Inserted Paper-Filter into UMX5 | Weight of Filter = 100.5055mg |
| 10.55 h | Start Micro Balance (UMX5) Testing Programme on PC | |
| 11.06 h | Restart Testing Program again with new Log File | Very slight Disturbance on RH, still within Spec. |
| 13.00 h | Increased RH to 50% (+5%), Chiller T from 7°C to 9°C | RH swinging in nicely, 30 Min later stable again, as expected |
| 16.30 h | Decreased RH to 45% (-5%), Chiller T from 9°C to 7°C | RH swinging in nicely, 60 Min later stable again, as expected |
| | no further Action until midnight // End of Experiment | Performance as expected, everything OK |
Results obtained
1) Influence of higher Humidity on Paper Filter (+50μg gain in Weight)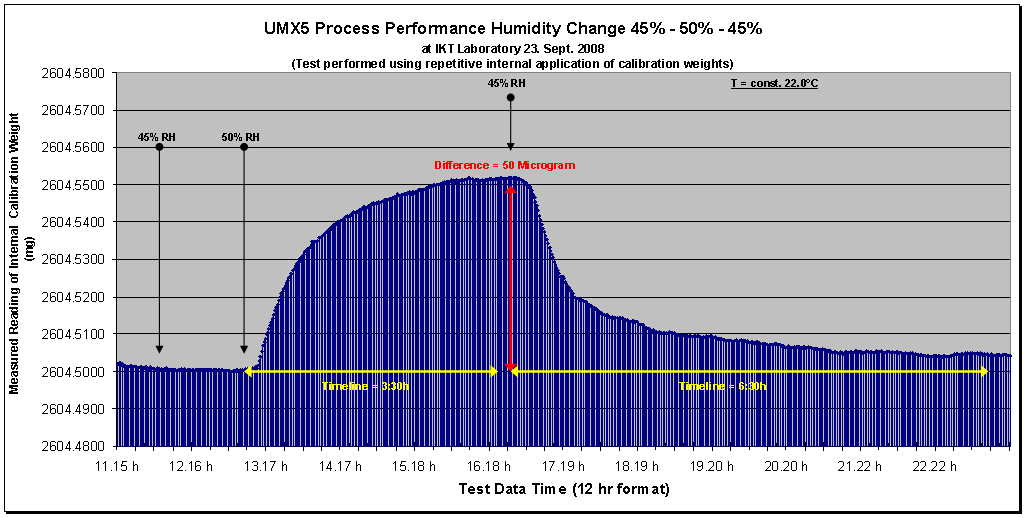 2) The influence on the UMX5 Micro Balance (direct reading Result)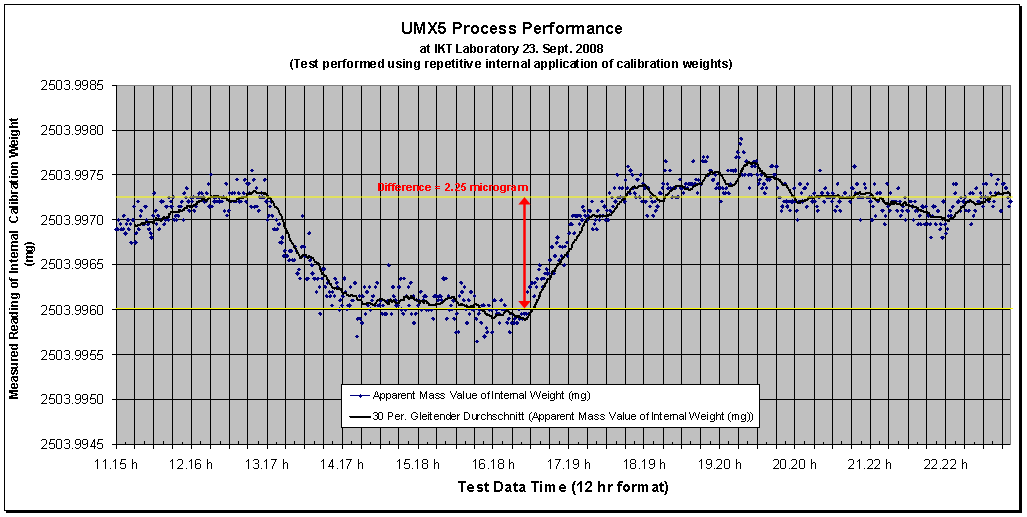 3) The influence on the UMX5 Micro Balance Zero Point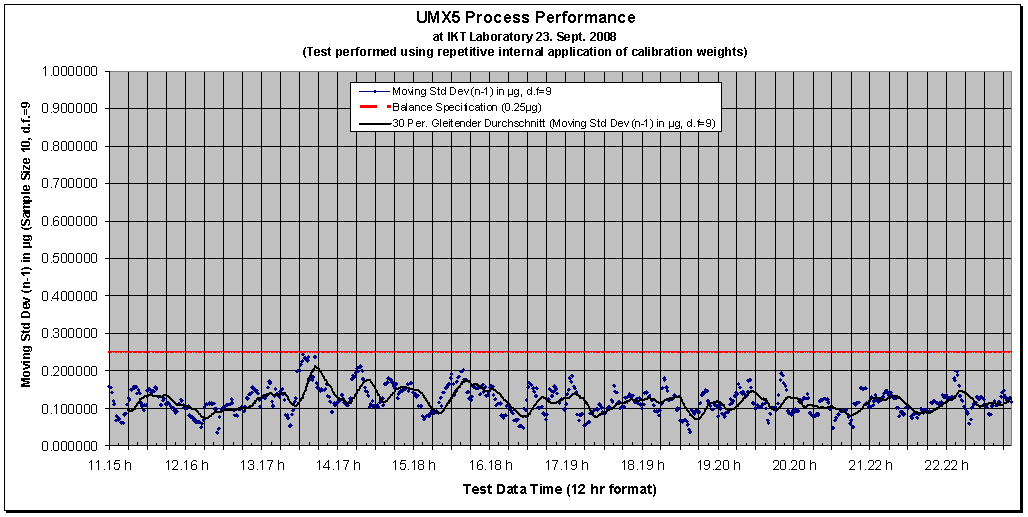 4) Temperature Chart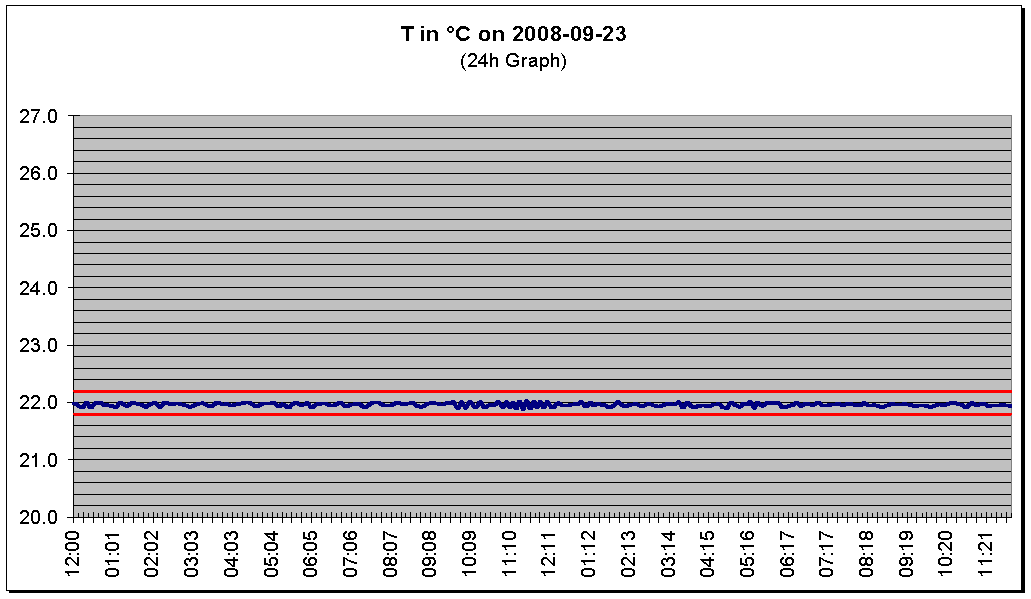 5) Humidity Chart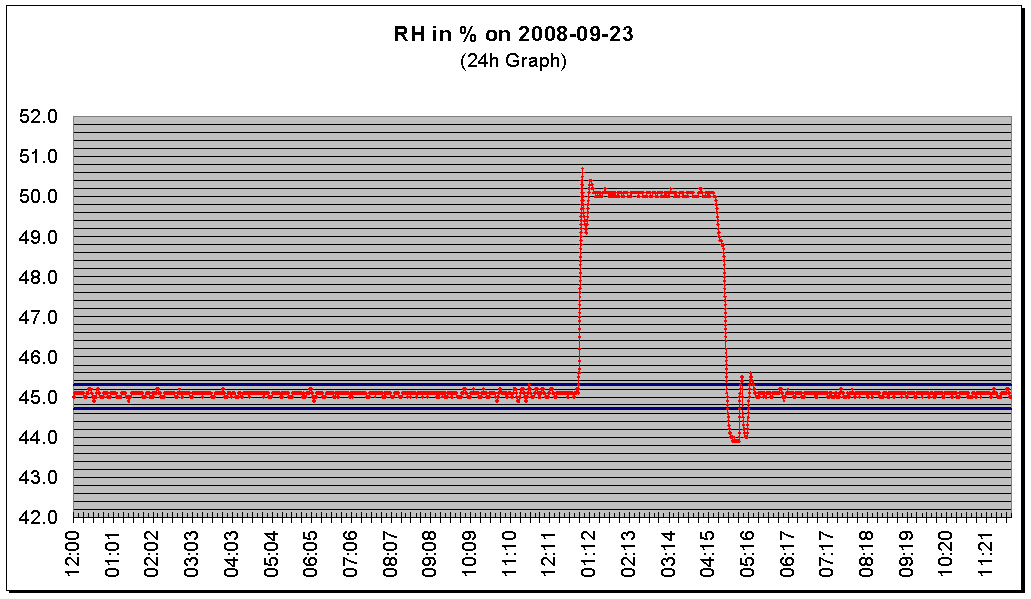 6) Dew Point Chart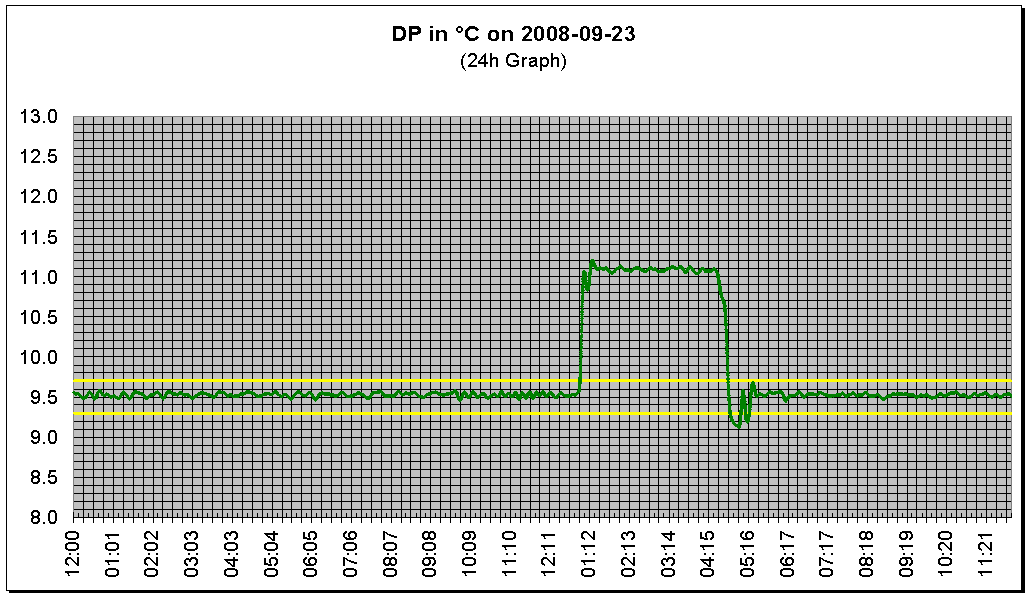 All these information is Copyright © IKT AG, 2008/ML
--- End of Document ---